Every April for the past 60 plus years, Wilmington, NC has hosted the North Carolina Azalea Festival. Wilmington just happens to be the azalea capitol of North Carolina.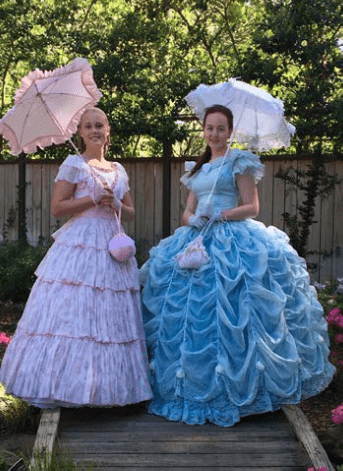 This is a demonstration of southern charm at its finest. A large part of the festival are the Azalea Belles. Over a 120 young women, high school juniors and seniors, serve as ambassadors for the City of Wilmington during the Azalea Festival. Dressed in antebellum hoop skirts, they have come to symbolize the Festival season as much as the flowers they represent.
The Cape Fear Garden Club Azalea Belles enhance the beauty of several activities during the Festival, but their primary duty is to act as hostesses, while being escorted by young men in cadet military uniforms.
Competition is stiff, and it is quite an honor to become chosen as an Azalea Belle.
Among those chosen this year were two exchange students, Julia from Finland, and Emma from Denmark. They both enjoyed the experience immensely. Both girls were interviewed by a local TV station. They were identified as ICES foreign exchange students. They spoke of their experiences during their exchange year, as well as their experiences in the Festival. Neither had ever worn a hoop skirt.