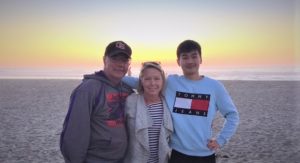 I had concerns that as empty nesters we'd be boring for Bill
Our initial plan was to serve as a welcome family, but once we had Bill as a guest in our home it didn't feel right to bring it up… he was sweet, smart, hard working, curious, funny, thoughtful. He loved his room, our home, and seemed genuinely grateful to have been placed with me and Steve. I had concerns that as empty nesters we'd be boring for Bill, but it turns out he's very happy and content with us.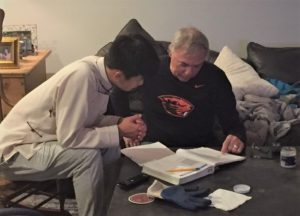 September was full of adjustments; learning our way around each other, using Google to translate, chatting with Bill's mother in Mongolia via internet messenger, not to mention adjusting the amount of shopping and cooking needed to feed an 18 year old boy!
Our relationship with Bill is obviously developing. Going through predictable phases: finding the balance between guest and family member expectations, watching closely for signs of culture shock, introducing him to our family, friends. We've had lots of firsts… celebrating his 18th birthday, OSU football games, a neighborhood harvest party, and a gorgeous weekend at the Oregon Coast.
October finds us settled into routine, sharing meals, developing inside jokes, helping with homework, doing chores, watching sports on TV, prepping for Halloween.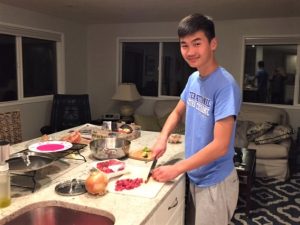 As I write this, Bill is washing our dinner dishes.. He refers to himself as the "most expensive dishwasher"… his joke because ours just broke.
I'm grateful to be bonding with Bill, grateful we decided to host him for what I know will be an important formative year in his life."
Katrina Beranek
ICES host mom in Jefferson, Oregon
hosting exchange student Buyanbileg (Bill) from Mongolia 🇲🇳