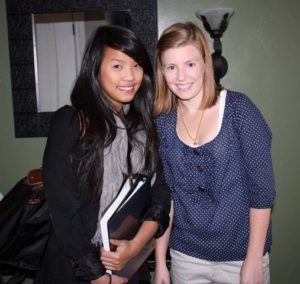 "It has been amazing too see how well they have just fit into our family …"
Introducing…
The newest members to the Jackson's … (now a household of 8)
Yes we are crazy, but we were asked if we would like to host a foreign exchange student. Jaden and I though it over and finally decided that yes we would love to do it. Then Carly Bennett (our representative) sent us 4 foreign exchange student profiles… 2 boys and 2 girls… we fell in love with both girls and could not decide between them so we decided we would take BOTH!
Henriette is from Norway. She is 17. She has fit into our family quite well and the kids all just love her. She is sweet and kind and sooo cute! Henriette thinks Norwegian Chocolate is the best. Her and Ann are always arguing about which chocolate is better… German or Norwegian… I of course am neutral and love both!
Ann is Vietnamese, but she comes from Germany. She is 15. Ann is so funny and was an only child so coming to our now house of 8 is quite a change for her. She is adorable and has such a contagious smile and laugh. Ann likes Ketchup on everything and we are always teasing her about it.
We have already falling in love with both of the girls. It has been amazing too see how well they have just fit into our family, almost like they have always been here (except for the accents … LOL).
There have been a few snags. Rigby High School had too many exchange students so they are attending Madison High School. They leave our house at 7:00 am in the morning. Christy Robison drives them to Menan on her way to work, then the Spencer family in Menan takes them up to the Madison High School. They do not even get home from school until 5:00. It is a super long day for them but they have never complained!
We are so proud of them and truly do love and care for them like our own children. They are doing so well in school and are speaking English like pros. We now have a family of 8!
Good thing we have a big dining room table oh ya and car that holds 8!