Maja has been a blessing from the beginning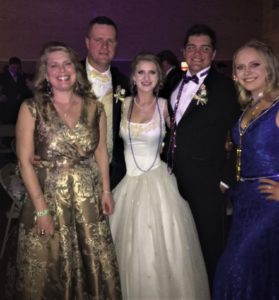 Hello, My name is Candice Pias. This is a note about our family's experience with hosting an exchange student over the last year.
My husband's name is Gill. We own a sign company and Gill also does some farming on the side. My husband and I enjoy boating, fishing, camping, playing and singing, skiing, eating out, having friends over, gardening, and enjoying nothing to do on Sunday afternoons. We also enjoy attending our children's many activities, like baseball games. We have two children. Anna is a 17 year old Senior. She is very active and bouncy. She loves to scuba dive, lifeguard, cheerlead, and participate in beauty pageants. Anna is beginning college in the Fall of 2018. Huck is 12 years old. He is tall for his age and very much a boy. He loves sports, especially baseball and he is very good at it. He also likes playing the guitar and classic rock. He is very much into hunting, 4-wheeler riding, his X-Box, and anything a boy can do in the country. I am proud to say that my husband and both of my children don't mind hard work. We live on a 1000 acre farm in Louisiana that consists of woods, fields, swamps, bayous, and a lake. We grow sugar cane, wheat, and soybeans. My parents live on the farm also and we have a pretty large family. Louisiana is called the sportsman's Paradise and I would say that describes where we live accurately.
It is important for me to state that I have health problems. That is important because it is a major role in why we came to participate in this program. I have a neurological disorder called CIDP. At times it can be debilitating and make life hard, but we chose to not let it drag us down. We ask God for Grace through every challenge and trust him to bring us through it. Because of this illness I had to learn to eat an anti-inflammatory and healthy diet. Anna also has a gluten sensitivity. Anna is friends with the local exchange rep and was explaining to her our diet. She asked us if we would host a lovely teenage girl from Sweden with Celiac since we knew how to meet her dietary needs. Because of my illness I was hesitant. However, I also know what it's like to be told I can't do something because of my health. I usually do not accept that and try to do most things that I want to, even if it's hard. I guess you could say I don't accept my limitations. Because I know how it feels, we couldn't stand the thought of a health issue standing in the way of a young person's dream, I don't let it. So, we decided to take Maja in.
Maja has been a blessing from the beginning. She fit very well into our home. She is happy, helpful, active, and smart. She enjoys many of the same things we do and is never afraid to learn or do something new. She gets along well with Anna and they are great friends. She treats Huck like the little brother she never had and likes to play sports with him. She helps me cook and shop, and she has a good sense of humor when my husband jokes with her. The school my children attend, Avoyelles Public Charter School, is a pretty large and amazing school for a rural area. It is one of the best schools in Louisiana. Maja is very smart and was able to keep up with her school work well. She also participated in cross country and theater.
The last year was one of the most challenging as far as my health goes. I had a few hospital stays during the year. Maja handled it very gracefully and was a big help. We never wanted her to feel like she was missing out because of my health. We did so much during her stay with us, you would have never known I was sick. We traveled, went to plays, attended a major college football game, camped, attended a ball, and we are about to go to Disney World. It taught us all that no matter how hard life gets, you just keep going, keep smiling, and keep praying. Our only regret is that Maja will have to leave at the end of her exchange year and we will miss her so much. She is truly part of our family.
The Pias Family
Evergreen, Louisiana
hosting Maja from Sweden 🇸🇪