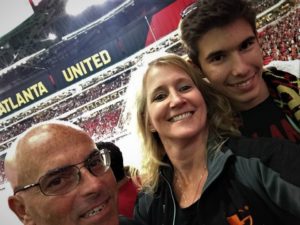 Miguel has been a pleasure from day one
Wow… Where do we start?
Miguel was not our first Exchange student; he happened to be our 3rd student. From the very first glance at his paperwork and spotting his birthday was the exact same as our youngest, we know he was the perfect fit for our family.
Miguel has been a pleasure from day one. We have learned so much about him, his family, Spain, the culture, and the European Union. His family should be very proud of him and the impression he has left with our family, his new American friends, and teachers. His drafting teacher wanted to adopt him so he could stay and finish out school here in the US.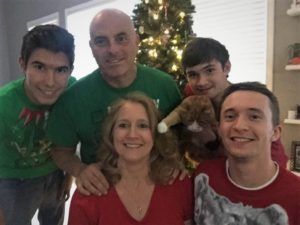 During the end of the first semester, our oldest transferred colleges as was living back at home. We went from having 2 teenage boys to 3 teenage boys and all their friends. Honestly, nothing changed except the grocery bill and lack of hot water for morning showers (LOL). They bicker, fight, and tell jokes that we as parents do not understand, just like true siblings.
Living in Atlanta, we take for granted so many things about our city and got to re-experience them again:
Great Public Schools
• Riding the big yellow school bus
• Getting lost in the sea of 2500+ students and making it classes on time
• Honors & AP classes to Drafting and Culinary
• Pep Rally's & Friday night football games (against the rival school)
• Both boys' and girls' soccer teams to making it to the Elite 8 in the state playoffs
• Homecoming Dances and Prom
Awesome Sporting Venues
• The opening of Mercedes Benz Stadium and attending several ATL UTD games
• College football games and the Atlanta Braves
An International Airport
• We had the honor hosting another student for 10 days, while his family was out of the country. When it came time to drop him at the airport, the huge alligator tears flowed and he wasn't even our student. The tears will be much bigger when Miguel leaves us, but we will always be connected to him and his family.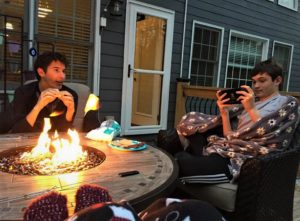 All and all it has been a truly wonderful experience over these 10 months with Miguel. We can't wait to visit Spain, meet his family, and experience the Spanish culture.

We will miss him!
John, Wendy, Justin, and Jacob
ICES Host Family in Atlanta, Georgia
hosting Miguel from Spain 🇪🇸