"On this day a year ago I was the only "adult" woman sitting in church watching all the other mothers line up to be recognized.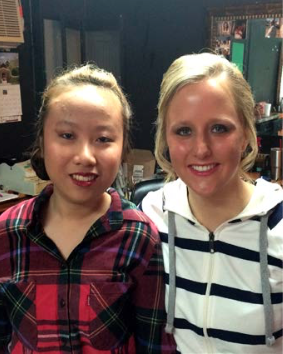 It hurt my feelings because I didn't know what it was like being a mom. I have fought the emotions of wanting my own child. I always say it will happen when it's gods will. Not knowing in a few short months I would become a "mom". No not my own birth children but to two wonderful girls that I wouldn't trade the experience with for anything else.
This morning as the ladies were going to the front of the church my girls told me to go with them. It really touched my heart to know that they love me enough to be their American "mom".
I love you both more than words could ever tell you. No matter where you are in the universe you both will always be in my heart.
Thank you Linnea and Maya C. for allowing me to have this experience.
Thank you Helena for allowing me to be a "mom" to your daughter. Happy Mothers Day to you. Attaya let your wife know I said Happy Mothers Day and thank her as well for allowing me to be Maya's American "mom". You all will be a part of my family forever.
Thank GOD the most for giving me these girls to protect and love while here in my care.
It's hard being a mom, it's fun being a mom, and it's rewarding to be a mom, so Happy Mothers Day to all you wonderful ladies.
Jessica Webb
ICES Host Mother Red Bay, Alabama