Our advice to those thinking about hosting… DO IT!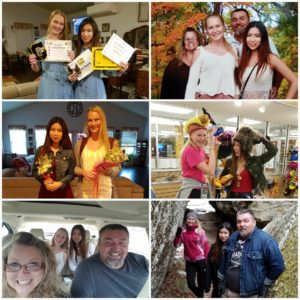 Being a host family has been one of the biggest blessings we have encountered.
It's much more than proving room and board. It's been an extension of our hearts, home and family.
We now have, a "daughter" Maria, in Brazil from our first hosting experience. Currently, a Chinese daughter Tiko, and a Norwegian daughter Mariah. Our hearts have been blessed many times over with these ladies, and their families.
Hosting 2 teen girls has proved that family really is more than blood relatives. Tiko came 8000 miles from home, Mariah 5000 miles to the USA forming a sisterly bond that will last a lifetime. These ladies have developed such a friendship in our community, our school as well as our family. We have traveled, camped, kayaked, swam, hiked, cried, laughed, learned and loved together.
This experience has eliminated our "empty nest" syndrome…
It has also brightened the eyes of my father who is managing widowhood. He delights in asking the girls how their day was, what they learned at school, how practice went, and even cheering them on at sporting events.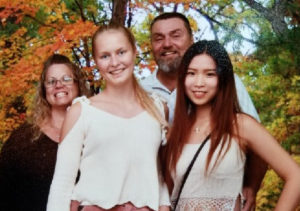 Our advice to those thinking about hosting…DO IT!
The hardest part of hosting, is having to let them go back home.
The Blessings are Ours!
Tim & Pattie Johnson
ICES Host Parents, Hillsboro, Missouri