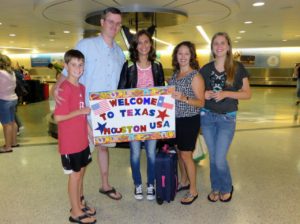 Our Life Through Fresh Eyes
Our family decided in Spring 2015 to host an exchange student for the 2015-2016 school year.
When we started telling friends and family, we kept getting asked things like, "Aren't you worried about the effect on your family of having someone else living with you that you don't know?" And, "Don't you think you'll get sick of having a 10-month houseguest?" Of course we had some concerns, but we chose to believe that the positive effects of the exchange program would well outweigh any negatives.
As our student's arrival date approached, our excitement built, but I must admit that apprehension did as well. We had the "picture perfect" family foursome…Dad, Mom, one daughter and one son…what was bringing someone else into it going to do to our family dynamics?
After almost three months of having our French student, Floryne Antony, living with us, I have to say that we are essentially still living our regular lives — only a little more to the full and with more awareness.
Having someone with us with a fresh set of eyes — and trying to view our lives through fresh eyes myself — has been somewhat revealing and a lot of fun!
Speaking of fun, this may be our most fun family year ever because we're trying to pack as many great experiences as we can into this year for Floryne. Over the summer as we prepared for Floryne's arrival, our daughter started creating a bucket list of things we need to do with Floryne. ("Mom, would you believe Floryne's never had a snow cone? And we've GOT to take her to the Houston Rodeo!….")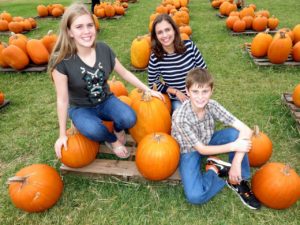 Although we have the natural constraints of time and money, we are working our way through our list and have done things such as: a trip to San Antonio, complete with visit to Fiesta Texas, the Riverwalk and the Alamo; eating all sorts of Southern food favorites like chicken fried steak and Tex-Mex; going to Friday night lights (high school football games for our undefeated team!); observing alligators while hiking at Brazos Bend State Park; spending a weekend in the Texas Hill Country volunteering at a children's home; watching the entire Star Wars series (my kids were sure Floryne needed to see all 6 movies!); going to a Sugar Land Skeeters game; swimming in the Guadalupe River; and most recently dressing up together for a Halloween party and carving jack-o-lanterns (her first one ever!).
We are looking forward to continuing to share all sorts of American customs, family traditions and fun times with Floryne — as well as learning more about French culture from her — as we progress through the year, seeing our life through fresh eyes!
The Cummings family
Sugar Land, Texas