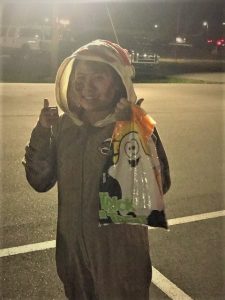 What a blessing Plai has been
I have to tell you what a blessing Plai has been. She is a truly honest and thoughtful girl.
On Halloween she was getting ready to go trick or treating. I had bought her and my granddaughter Bri some footed PJs at a yard sale. Plai decided to wear hers Halloween night. She put them on and felt something in the foot. She thought it was just a piece of paper wadded up. So when she took it off to get the paper out. it was a wad of money. She immediately brought it to me.
The first thing I saw was a $100 bill. So I thought maybe a hundred and some 20s. I started counting it. It was $2,700! She said, Mom where did you get this we have to go give back! Now legally the money was ours and she could have easily just hidden the money and never told me. We figured it out in Thai Baht and it was about 9 months of salary in her home country. 94,500 Baht to be exact.
I knew exactly where I had bought the PJs, so we went to the house and found out the people's business had gone under and they were in a legal battle, and things were very hard for them right now. He couldn't believe what I was telling him. His wife had hidden it, when they ran a farm vegetable stand, for a rainy day and actually forgot about it.
So thank you. We don't find honesty like that very much anymore and especially in a person so young that has such high morals.
Carol Phillips
ICES host mom in Owensboro, Kentucky
hosting exchange student Sarunporn (Plai) from Thailand 🇹🇭